Azores
22nd May - 9th June 1998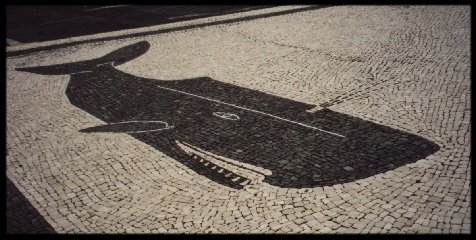 What we did
Friday 22nd
Flew into Ponta Delgada on Sao Miguel (from Heathrow via Lisbon). Stayed at the "Hotel Residencia" which was a bit further out of town than we expected due to there being two streets with very similar names. Oh well, still walkable. Ate yummy grilled squid at the "Gil" (seemed to be the most popular place in an otherwise quiet town) with Jean who we met on the plane.
Saturday 23rd
Discovered that we were just round the corner from a large "hiper mercado" (on R.D.San Goncalo) which was apparently about the only thing open on Saturday. (Note that the tourist info offices on ALL the islands are closed at weekends!) It sells Camping Gaz (places which do seem to be thin on the ground). We had taken a Coleman stove which could run off petrol, and this turned out to be a good idea. Combined walks 2 & 3 in Landscape book. Walked from Vista do Rei (get there via taxi) to Remedios around the Caldeira das Sete Cidades (we never got down to the actual village). 8-10 miles ? Very pretty! We had to pass some scary dogs chained up to the milking machines along the way. In Remedios the locals gave us some beer and cake while we waited for the bus home. Much excitement as the Azores football team is playing Madeira (they won 2:1 which resulted in a huge convoy of cars orbiting Ponta Delgada with horns blaring).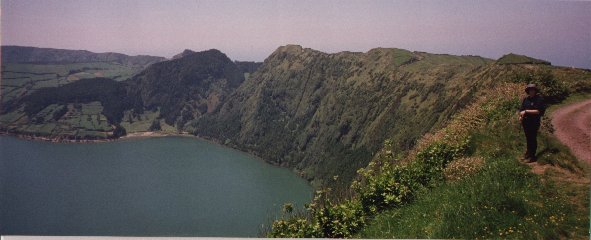 Sunday 24th
Did walk 1 in the Landscape book. Some kind of festival was going on in the village at the start with lots of marching bands and fireworks. This walk was mainly on tracks through farms and villages. A pair of nice old men sitting in the square at the end tried to communicate by sign language and offered us wine.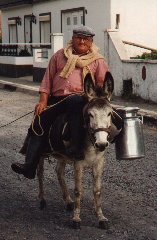 Monday 25th
Hired a car and drove to the Nordeste camp site (free!) via Caldeira Velha which is a natural swimming pool with lovely hot water (it's also smelly and a rather offputting muddy yellow colour). Then on to the spectacular Lagoa Do Fogo. At the Nordeste camp site we met some local students, and heard interesting tales of life in the Azores.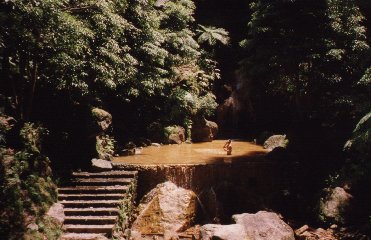 Tuesday 26th
Unfortunately construction work was being done on the river bed next to the campsite and we got woken up incredibly early by a really noisy bullozer. Went for a look at the crashing sea near the campsite at the local "beach", then drove down coast to Faial da Terra, stopping at several beautiful landscaped viewpoints. We attempted to do a walk from a leaflet we had obtained at the bookshop in Sao Miguel, but then got lost when it just seemed to disappear in the middle of an overgrown field. Octopus for dinner (yummy... in a gross sort of way).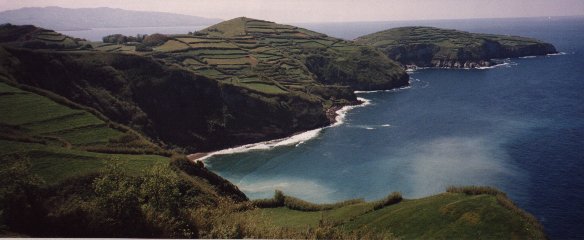 Wednesday 27th
Drove to Furnas, saw the steaming vents and did another walk around the lake from the Landscape book. Very nice but a bit overgrown. Had to modify the route quite a bit at the end... the track described had changed into the main road and we were advised not to take it ("you'll be eating dust sandwichs all the way") by a US Navy "Sea-Bee" working on the road. So we walked on the old main road which had been spectacularly eaten away by landslides in many places (but it was passable on foot easily enough). Stayed at famous Terra Nostra hotel for 15,000Es. Swam in their thermal pool. Ate some of the famous stew cooked underground at "Tony's".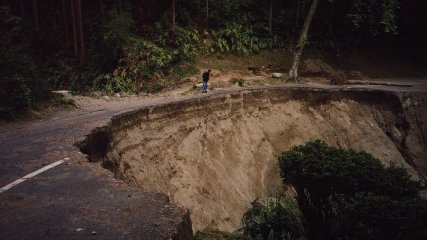 Thursday 28th
Explored the Terra Nostra park. Julie was attacked by a swan! Took the boat from Vila Franca do Campo to lagoon on island. Tim went for a swim in cold sea. We BBQed fish at one of the BBQ places (we almost got chased out because this one was supposed to close at six, but the ranger generously let us stay).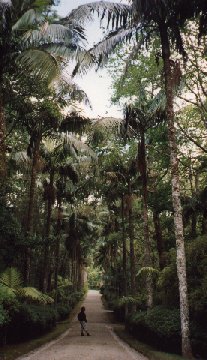 Friday 29th
Early start for our flight to Faial, but it was delayed for 2.5 hours because of bad weather (fog?) at Horta. Here we met Petra, who we bumped into frequently on the rest of our trip. Caught a glimpse of Pico poking out of the clouds on the way in! On arrival in Horta we visited the tourist info, and stayed at the "Residencia Tino Lima" (cheap and cheerful). Planned what to do next: Booked a whale watch, a hire car and a taxi. Then drank beer & looked at the boats (and all the paintings on the harbour walls).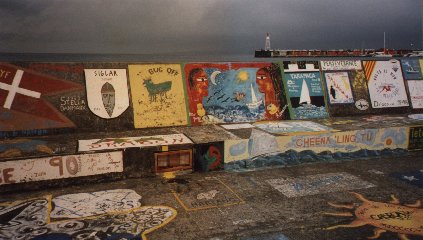 Saturday 30th
Rain. So we canceled the taxi to the caldera and went to find a laundry (there's one near the harbour). Visited the scrimshaw museum at Cafe Sport. And the Horta museum (some AMAZING models made of fig pith). Picked up the washing. Still raining.

Sunday 31st
Had a hire car today. It was still raining (but getting better). Drove up to the Calderia, but it was completely foggy and impossible to see anything so we drove on to Caphelinos. The weather was clearing up by now so we had a good old wander around this strange moonscape and spent hours watching huge waves crash on the black volcanic rocks. Then drove up to the Calderia and had a rather muddy walk around it with the clouds coming and going. Back in Horta we had a great time looking at the "door displays" in the shops (too hard to explain... you just have to go there). Went to the "Restuarante Churrasqueira Capote" which had very yummy BBQed food, but was rather spoilt by slow, unfriendly service.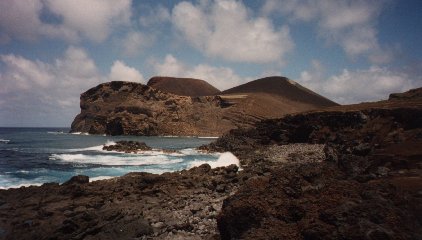 Monday 1st June
Went whale watching with Espaco Talassa based in Lajes on Pico. They picked us up in the harbour at Horta so this was a very convenient way of getting over to Pico (took about an hour). We saw pilot whales and various dolphins. Well worth while! Then we walked up to the vigia (the whale-spotters lookout tower) and had a look through their binoculars. Camped in the Lajes campsite which is free, very nice (but watch out for the ants which will get into the smallest hole in your tent), and the guys who run it are very friendly.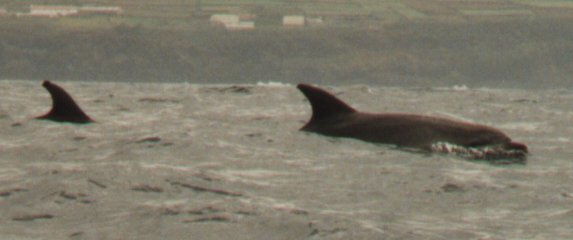 Tuesday 2nd
The day we went up Pico! The taxi picked us up at 5am. Everything was fine on the way up (which took about 4 hours), but at the top crater it became clear that it was just too windy to get onto the final summit peak. Five minutes after Tim proposed to Julie (she said "yes") a massive amount of cloud, wind and rain rolled in and we had a tough time finding the way down (compass absolutely essential!). Took about three hours to get down, with continuous rain and wind and almost zero visibility in the cloud. Halfway down we saw two nutters going up!!!! (More about them later...) Approaching the car park we heard our taxi driver shouting, but the wind was blowing so that he couldn't hear us shout back. When we got there he was gone. We decided to walk out just to keep warm, and managed to walk/hitch to Madelena two and a half hours later.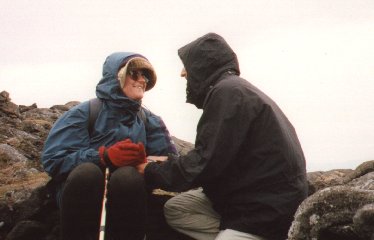 Wednesday 3rd
Recovered from our adventures yesterday. Some funny business in the campsite shower block... be warned that the local pervert seems to like to hang out there. A very lazy day... didn't do much except visit Lajes's whaling museum.
Thursday 4th
Still recovering. Went for a very short walk up above Lajes, and BBQed fish at the campsite.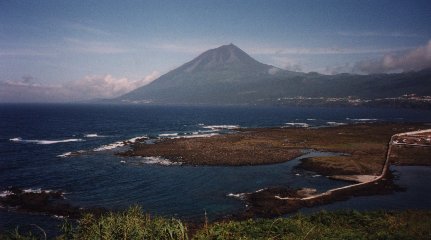 Friday 5th
Hired bikes from Espaco Talassa (the usual heavy, clapped out badly adjusted bikes you get at these places) and rode to Ribieras along the coast (a very quiet little village). On the way we saw dolphins just off the coast and met some very friendly Azoreans. The guys who run the campsite BBQed us some delicious fish. One of them is apparently the star of a old book entitled "Daniel and the Whale Hunters" which describes the last days of whaling in Lajes.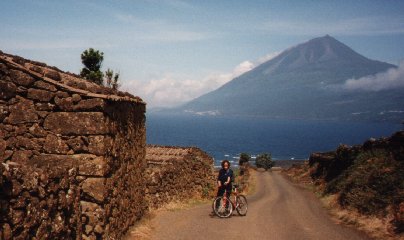 Saturday 6th
Went for another whale watch, and saw Bottlenose dolphins (our favourite!) and Pilot Whales. This time the sea was quite rough and we didn't get such a good view (plus Julie got a bit ill). We took a bus via Madelena to Santo Antonio campsite (again, free!) on the other side of the island. (Be warned: the timetable we had obtained from Horta tourist info. was 1 hour out). On the way we saw some of the amazing postage-stamp sized vineyards.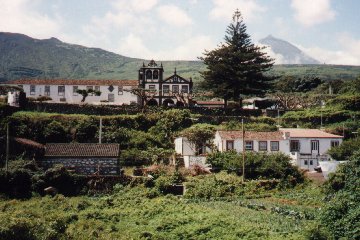 Sunday 7th
Walked east along coast, passing the old whaling factory museum (closed today though), more of the little vineyards, lush scenery and eventualy reaching a cosy swimming place. More of the noisy birds at night (sorry, didn't mention those before: every campsite we stayed at seemed to be plagued by a sundown invasion of a seagull like bird apparently called the "nagging mother-in-law"; if you ever hear them you'll understand why!!!).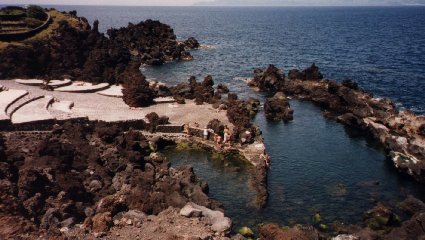 Monday 8th
Got the ferry back to Horta from Madelena (very rough, with some people sitting in the wrong place getting completely soaked). Saw the Horta Fish auction (south end of the harbour). Had "lulas grelhado" (grilled squid) again (yum!). Stayed at the "Residencial San Francisco" (very comfy). Went shopping and found a cookbook with a recipie for the "Pasteis de Nata" (Portuguese custard tarts) we had been eating in cafes all over the place.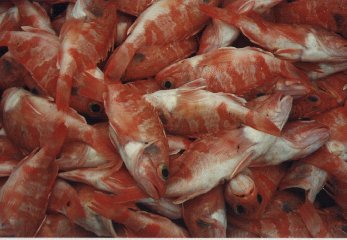 Tuesday 9th
Picked up some maps of Pico and Sao Jorge from the Tabacaria de Sortie (just nr. Res. San Francisco) which had about the best (well, only) selection of maps we saw in the Azores. Why ? Because we'll definitely be back one day! Also found ourselves some tins for making "Nata" in (we have since used them very successfully, although once you see how many eggs go into the things it puts you off a bit). Flew back to Heathrow via Lisbon, getting some fantastic views of Pico. (And who should we be sitting in front of but the couple who had been ascending Pico in horrendous weather; they managed to get to the top, but got lost on the way down and ended up walking right across the island.)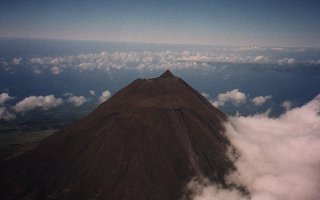 Guidebooks we found useful
Sunflower: "Landscapes of The Azores"
Eyewitness: "Portugal with Madeira and The Azores"
Wanderlust #12 October/November 1995
Info from the Portuguese tourist information office in London (we also picked up lots of useful info in tourist info offices once we got out there)

What we took
A checklist we made when packing:
tent (Eureka Backcountry)
pegs x10
guidebooks
sleeping bag
therm-a-rest
day-pack
waterproof
water bottle
camera & film
compass
pen knife
sun hat
stove
fuel bottle
pans & handle
plate, cup, bowl, knife, fork, spoon
sunglasses
swimming costume
head torch+battery
T-shirts
mid-layer / fleecy thing
towel
walking trousers
pants & socks
boots
sandals
foam seat
survival bag
first aid kit
gloves
hankies
Driving licence & passport
Cash (we didn't bother with travellers cheques; Portuguese banks are well known to charge rip-off rates)
purse
tea bags
skeeter stick
mozzie repellant
sun tan lotion
washing up liquid, pan scrub
books to read
crib board and cards
address book
washing stuff
What we should have taken
Snorkel & mask - the sea was pretty cold, but very clear and full of fish. Actually, maybe not... it was very cold.
More maps - these were available from Stanfords (although quite expensive), but would have been quite useful when we were in areas not covered by the Sunflower guide (especially Pico).
German guidebooks. A German girl we met seemed to have a much more comprehensive walking book than the Landscape guide. Of course, we'd have had to learn German.
For web pages in the Azores: