Dominica
6th - 20th December 1998
Important note: Dominica is NOT the Dominican Republic.
What we did
Monday 6th
Travelled a lot: Left Gatwick 9:30, arrived Melville Hall 17:30. Funny taxi touting stuff going on but our real driver Grantley turned up eventually. 1 hour on steep twisty narrow roads through rainforest to Hummingbird. Lots of rain. Yummy local food for dinner.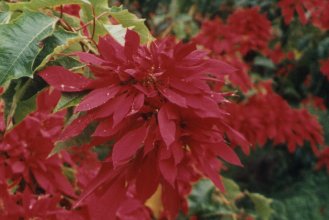 Tuesday 7th
Eggs, crispy bacon and ginger tea for breakfast. Went into Roseau (in the rain), and hitched a free lift while waiting for the bus. Went to the market (fish and fruit stalls; nothing special). Changed some money (big queues at bank). Went to tourist info. and chatted to a Canadian (Bill) here for 5 months. Booked a whale watch (with Dive Dominica, next door to Evergreen Hotel south of Roseau). Had a chicken roti (reminding us of a previous trip to Barbados where we lived on them) from The Mousehole and ate it in Pebbles park (bit of a building site next to Fort Young hotel). Went to "Tropicraft" to see the usual sort of tourist/souvenir stuff (although the women weaving the mats were worth seeing) and on to the botanic gardens, where we got followed around by an annoying stray dog. We saw parrots and an amazing hairy fig tree, and the rained off cricket match vs. Grenada and lots of green stuff. Went shopping for snack food, Sorted out a hire car. Fish and yam pie back at Hummingbird.
Wednesday 8th
Bus to Scotts Head (via traffic dept to get a driving license). Huge cruise boat in today. Hassled to buy a coconut on the way to the beach; seller gets told off for selling green ones. Excellent snorkeling in very clear water out to a huge BLUE drop-off. Lots of small fish, some big ones and a couple of large squid. Good sunny weather in morning, rain later. Yummy snack in Seabird Cafe. Dip in hot sulphur spring pool at Soufriere. Mad bus driver back to Fort Young Hotel for cocktails. Met some guys going to work on cruise ship as entertainers (one an ex-Grumbleweed). Went for a meal at La Robe Creole (OK - yummy calaloo soup and accras)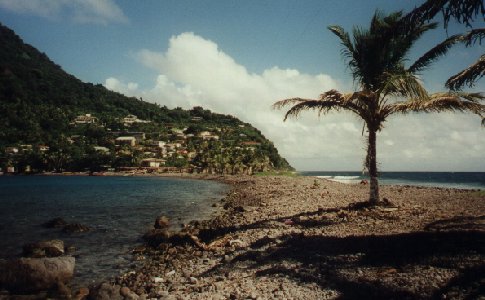 Thursday 9th (Julie's birthday)
Major confusion over bill at Hummingbird (watch out for breakfast extras; they try to charge you for every cup of coffee, "shrimps are expensive". A shame when you've been made to feel like you're in someone's home; this place needs to get its act together). Bus to Roseau (2 cruise ships in today). Got fruit from market, provisions from supermarket. Haggle over taxi to Papillote. Very nice and quiet (only 6 people staying). The hydro plant thing looks bad, but it's not very noisy and not as big an intrusion as we had been led to believe. Dasheen puffs and fish in a banana leaf for lunch. Birthday faxes for Julie. Hang out in rainforest, explore gardens and dip in hot pools. BBQ dinner.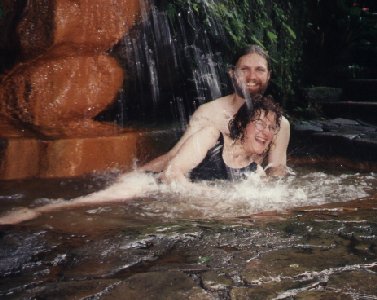 Friday 10th
Wandered up to Trafalgar with about 200 cruise ship passengers. Lost them all by getting a guide (Eddie) to take us right up to the pool at the bottom of falls. Tim had a swim. Then back down and on through rain forest to boiling sulphur spring at Wotten Waven via waist deep river crossing (don't think Eddie was expecting that). Back for a dip in Papillote hot pools again. Sat around. Met someone from Bath (Aardman Animation's cook) at dinner.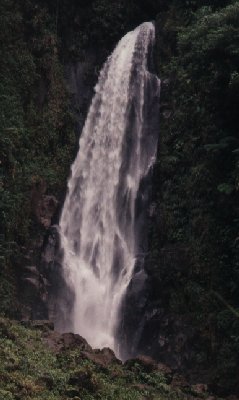 Saturday 11th
Got taxi to Roxy's Mountain Lodge. Left again because it was a building site and went back to Papillote. Hung out. Mountain chicken (giant frog's legs) for dinner.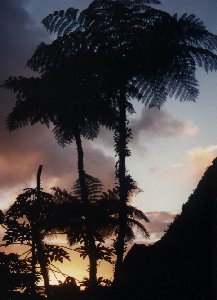 Sunday 12th
Hike to Middleham Falls through rainforest with Alfred the knowledgable guide from Papillote. ($70 US ouch). Went up to Freshwater Lake after; misty and spooky but nothing special (views back to Roseau best thing). Quite dry today (in morning, anyway). Back to pool at Papillote.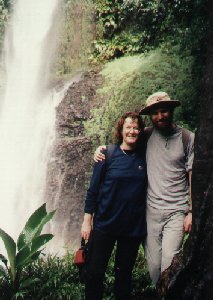 Monday 13th
Up early for breakfast then off with Alfred to big bubbling Boiling Lake through rain forest again, and smelly Valley of Desolation. Amazing yiews to both coasts. Almost no flat bits on route at all, lots of streams and rivers to cross; quite strenuous. Don't bother with Papillote sandwiches (expensive and soggy). Weather incredibly good for a change (didn't rain until almost back to van). Well earned cold beer at Dr. Fix-It's (careful where you sit: it could cost you!) Dip in Papillote hot pool feels good on return. Julie called "your wife" for 1st time. Rabbit for dinner.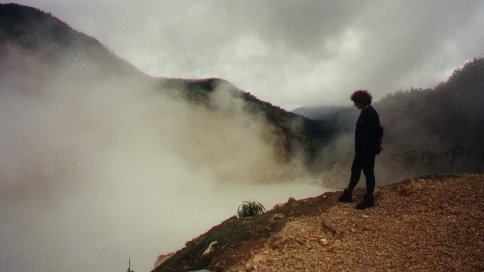 Tuesday 14th
Julie's legs slightly aching. Taxi to Roseau. Stay at Ma Bass guest house. Roti for lunch. Snorkeling at Scott's Head. Watch sunset from Evergreen Hotel. Only rained once in afternoon today. Dinner at Callaloo Restaurant.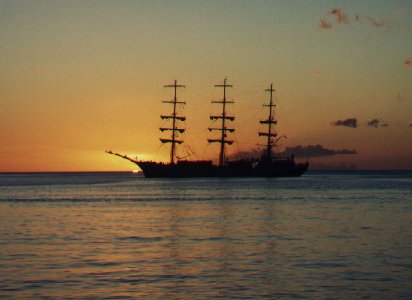 Wednesday 15th
Breakfast bagel at Cornerhouse. Drop off washing at Island Wash on Eliot St. laundromat (EC$20). Bus to Castaways Beach and very lazy day there. Not much to see snorkeling except millions of shiny fish. Water a bit cloudy anyway (apparently snorkeling best at Rodneys Rock to south). Hired a canoe. Collect nice clean washing on way back. Dinner at cheaper Chinese (us only people there; good service) with unusual dishes (banana fritters with beef ???). Watch Dominican Prime Minister switch on Christmas tree lights and get hassled by philophosizing local going on about Dominican dignity and pride... before he asked us for money.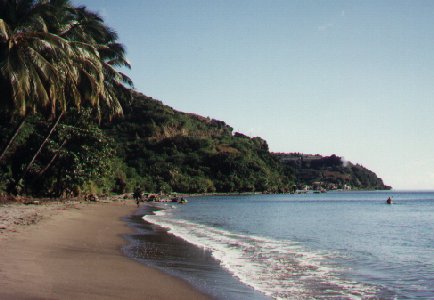 Thursday 16th
Cornerhouse for breakfast again. Go on internet (our site's front page up to 232 hits from 103 when we left) and send some email from hotmail. Go shopping for groovy fishy stuff in Rainforest Shop, T-shirts for nephews (bet they won't wear them) and rum. Big hassle at Ma Bass when she doesn't take credit cards, and has to charge extra for TCs (same amount for each cheque, and we only have small stuff left - ouch). Then off to Dive Dominica; saw lots (10?) of sperm whales "socialising" on the surface. Took lots of photos of, er, sea. Also some Dorado chasing flying fish. Bus to Roseau then Portsmouth, which looks a bit grim after dark. Mango Bay Hotel is quite basic, but at least the shower has hot water, there are mosie screens on the windows and you step straight out onto the beach. Too tired to go out for dinner.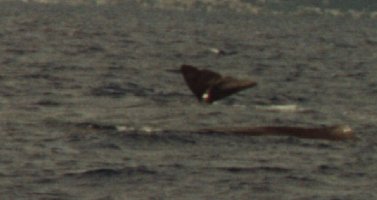 Friday 17th
Early morning dip (for Tim) then breakfast at Blue Bay just to south ($15EC each a bit much though). Lots of hassle to go on Indian River trip. Wander in to town to check car and see about river trip, but cruise ship tours are all queued up. Decide to come back later and go to explore Cabrits Park & Fort Shirley instead. See lots of big lizards, ruins & Douglas Bay looks nice and blue. Back for Indian River trip with Eustace for 25EC (up to the tourist trap bush bar). Very pretty though; saw a heron & egrets. Rain starts again. Bought some junk food to cook at apartment (because nowhere in town is inspiring enough to make us want to eat there). Decide to leave tomorrow.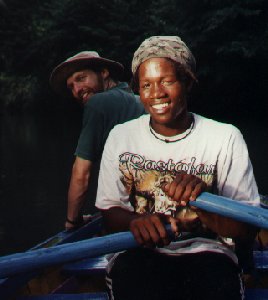 Saturday 18th
Heavy continuous rain. Get hire car (and arrange to leave it at airport when we go for $25US; very convenient). Douglas Bay grey and murky-looking from river outflows: not very inspiring for a snorkel. Fail to find most northerly road across island so back to take road east from Portsmouth. Rain eventually stops by time we get to Calabishie via lots of banana and coconut plantations and "boxing plants". Breakfast at ex-Almond Beach, now under new management. Explore along coast (lots of rough windswept beaches) to Carib territory (Julie looking for baskets, but all much the same as Roseau). Back for dinner at "Domcan", next door to Verandah View. Excellent value food & drink, run by Harry and his Dominican wife. Teddy shows us www.calibishie.dm.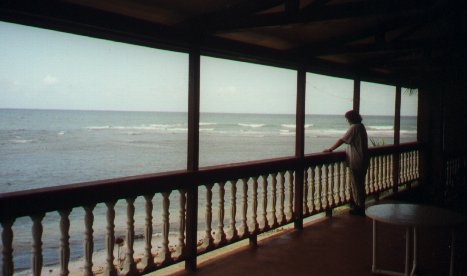 Sunday 19th
Best breakfast yet. Take car (with Bill) back to Portsmouth where there is a small but colourful fruit and fish market. Buy some yummy fresh passionfruit, and see an octopus being turned inside-out. Then on to Toucari (?) Bay where there is some good snorkeling on a reef protruding from the north end of the bay, although you have to swim around a load of fishing nets to get there, or scramble along the rocky shore. Unfortunately it's not very sunny. Lots of fish, some quite big. Also try Douglas Bay, but only find the odd fish and isolated bit of coral close in to the shore; suspect main event is further out in the middle of the bay where there seem to be a lot of fishing boats. Back to Veranda to idle away the rest of the day. Final dinner at Domcan's (yummy blue marlin) where we learn that the waitress only makes about $2EC (=50p) per hour (plus tips... but NB Harry keeps any service added to credit cards, or left after she's gone home). Only about 5% of the women in the village have jobs.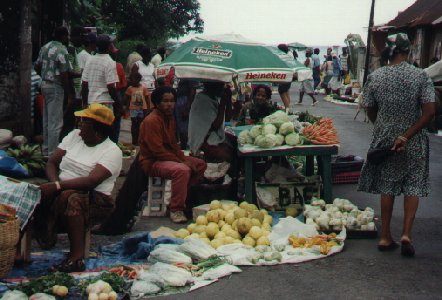 Monday 20th
Lots of rain in night; no power in morning. Teddy makes us an early pancake breakfast. Drive to airport and fly home via Antigua.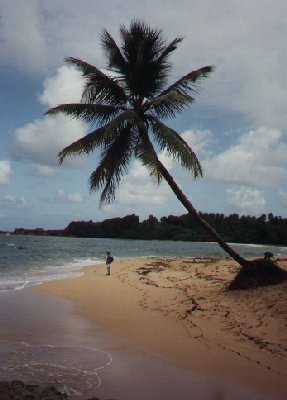 Info
2.68EC=1$ 4EC = approx £1. The cost to change TCs is the same PER CHEQUE. So don't bother taking small ones.
Accomodation
Our biggest problem with Dominica was finding nice, good value places to stay. The glossy pictures and glowing descriptions were often completely misleading.
Hummingbird: $US105 Dinner B&B. Friendly atmosphere. Room fine (although poorly lit), nicely landscaped; shame about the oil refinery below. They advertise a beach but due to the industry it doesn't look very inviting at all. They advertise quiet, but they're next to what is probably Dominica's busiest road and you hear it continuously. Not particularly convenient for anywhere, although buses pass frequently enough in the day. Would probably be a better base with a car. Food OK, but staff need to get their act together about communicating what is an "extra" (if anything the confusion is increased by the friendly atmosphere as you feel more like you're in someone's house than a hotel).
Papillote: Lovely. Gorgeous. Friendly. Amazing. Expensive (although when you compare it with the grot-holes you get for half the price, it seems well worth it). Contrary to what we had heard, has not been ruined by the adjacent hydro plant. The only time we heard its buzz was in our bathroom, or if we left the bathroom door open. The only place we went where the advertising understated the reality.
Roxy's Mountain Lodge: The description sounds great. The reality is that it is currently a rather messy building site.
Ma Bass: OK guest house. Clean. Doesn't take credit cards. Reasonable value at $42US for a private bathroom (although hot water supply was a bit hit & miss during our stay).
Mango Beach/Mango Bay: Nice beach location. Pleasant verandahs. Shame about the rooms. (No top bed sheets ? One towel for two of us ? Ancient musty mattresses ? Old grey pillows ? Sheets from an Oxfam shop ?) At least the shower delivers hot water. Describes itself as a hotel but is actually apartments i.e no-one makes your bed, but you do get a fridge & stove (which we did use, because nowhere in Portsmouth inspired us to eat there).
Verandah View, Calabishie: Very nice location on the beach (although the sea isn't good for swimming this side of the island: there are very strong currents). Friendly owner, great breakfasts. It's a shame we didn't find more places like this.
Guidebooks we found useful
Lonely Planet Eastern Carribean
Web sites
Try
for web pages in Dominica.